Quick overview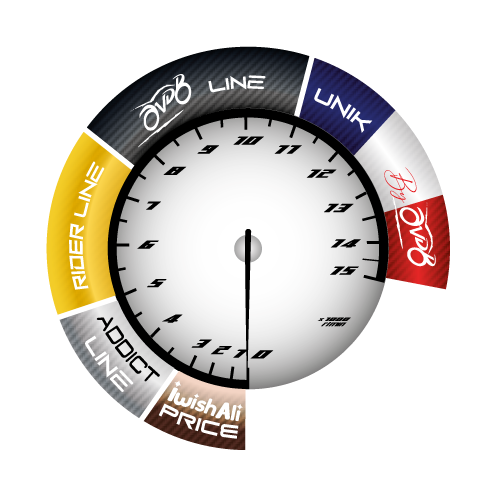 Detailed presentation

Since 2011 we have been working with you, biker friends, on a daily basis. Every day, we hear your requests, accept your requirements, and answer to your requests. And it is thanks to all these exchanges and to your feedbacks that we have improved our expertise and learned what should be kept, improved or changed in our catalogue and service to always be more relevant and to make you, bikers, all the more satisfied. Also, thanks to our place at the core of the motorcycle accessory market, and being an actor in the production of some of our accessories, we have met some of the biggest manufacturers with whom we have discovered the other side of the curtain, that of the production and of all its universe : the materials, the quality differences, the manufacturing processes... Since our beginnings, we have made motorcycling our daily life, the biker spirit a way of thinking. And although the desire to create and to design has been present since the beginning, we had to wait to allow AVDB to have the maturity, the financial and human resources necessary to carry out such a project today, and to support it in its future success. Also, these 8 years have been essential to understand your needs for accessories and how to manufacture them. But also, it is an asset to meet the challenge we have set ourselves: to design quality accessories while being easily recognizable, in order to clearly differentiate from the existing ones.
To leave our mark and stand out in a saturated market, we have chosen to distinguish ourselves by developing a new concept, our concept: Break down each accessory into two distinct parts, a simple idea that opens the door to an infinite number of possibilities. Indeed, we have revisited each accessory, even the most banal, giving it a new look, totally different from anything you have known until now. By breaking them down into two distinct parts, we have revealed new design possibilities that could not have existed otherwise. And to ensure harmony in our range of accessories, we have made a sober, distinguished and timeless design. And combining this concept of decomposed accessories with our own style, we also created our signature, our differentiation. And to give you the freedom to compose each accessory according to your desires, each of the two parts composing our accessories is available in 8 colours, allowing you 64 combinations of possible choices. We have searched for a concept that is still unexplored, and we have chosen to offer you customization possibilities that go far beyond what has been offered to you so far. And to keep it that way, each of these accessories have been developed, conceived and designed in France by AVDB. We have chosen a stake that matches our ambitions. This challenge is to give each of you the opportunity, by combining small accessories, to shape your bike in your image, a bike that looks like you, or simply a bike like no other, a unique one. And all this is symbolized by our concept: Unik.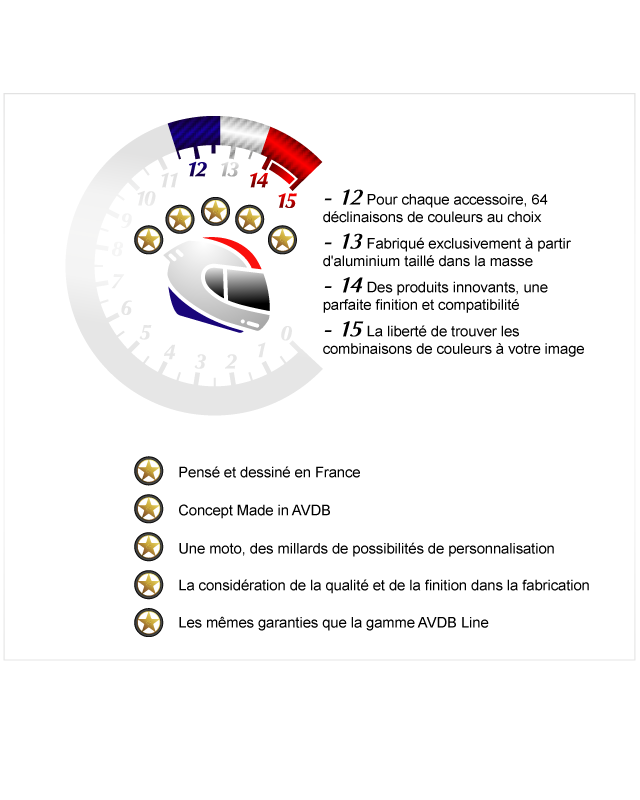 If we had to describe AVDB Line, what could be better than defining it in relation to ourselves, to our values and to our team. Indeed, if our team is full of qualities, so is our range of accessories. The biker spirit is part of us, and this range is intended to demonstrate this. Helpful, rigorous and relevant, so are we and so are our accessories, therefore offering the guarantee to meet your requirements, today and tomorrow. But before reaching this goal, we had to put our team together, which took time, efforts and dedication. The same goes for our range, which also took years to build. In our group, many elements have left us because they have not been able to prove themselves up to our standards, and only the best ones remain to serve you. The same is true for AVDB Line, developed through a strict selection to preserve and offer you only the best.
Once again, our team members are all different but complementary, and together they proudly make up the AVDB team. This range is also more than varied, and this is how it meets the needs of the greatest number of people, by combining multiple accessories that form, all together, the AVDB Line family. Pleasant, appealing, loyal and dedicated, this is how our team works for you, and how our accessories will be for your motorbike. And just as our team will continue to grow and improve, always in search of perfection and of your satisfaction, without ever resting on its laurels, this same promise AVDB line makes it to your bike. You probably understood it : both our team and our AVDB Line range are our pride and joy, they are and will remain in our image, and perfectly reflect the dedication and passion we have for you and for your motorcycle.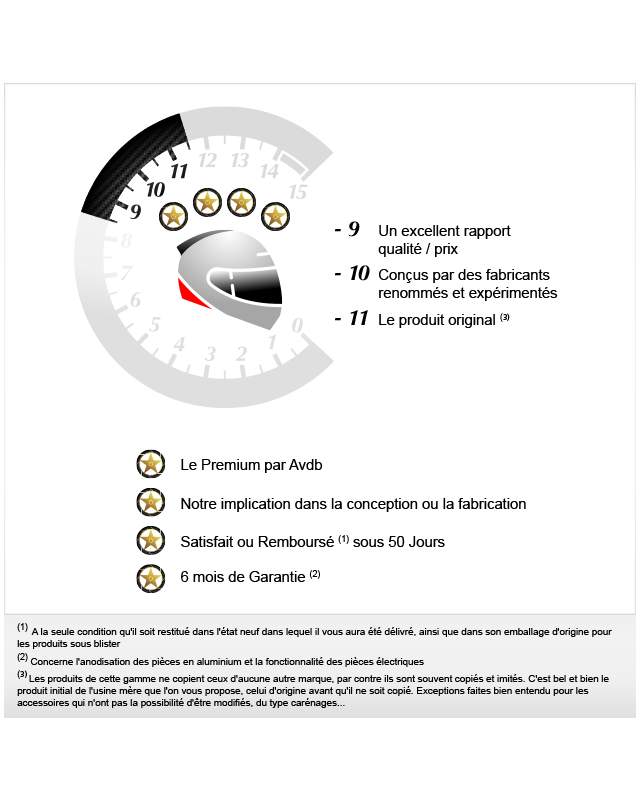 Personally, I ride my bike all week, or only on weekends. I use it on the road, but I can also use it on the track. It is my main transport to go to work, or only for pleasure and short journeys. As I take care to equip myself, I take pleasure in preparing my motorcycle and pampering it. To me, motorbike is not only for riding, it is also everything around it, a state of mind, a community, and I appreciate all of that too. Altogether and in short, all of this makes me a biker. A biker, yes, but with certain requirements. When I am looking for a part or an accessory, I am not looking for a brand, I just want a product that fits and that is compatible with my bike. I expect it to have a certain finish, but above all I expect it to be reliable and to last over time, I do not want to have to buy it again.
Sometimes before ordering, and even after, I have doubts or questions, and to be sure of my choice I want the advice or follow-up of an expert. And when I have chosen the right accessory, whether it is intended to embellish my bike or to repair it, I am often in a hurry to receive it. Of course, I want all this but I also want a price, because I am a modern biker, in the spirit of the times. That biker, after all, it is often you. We know you, we work with you every day, and we have put all our years of experience and know-how to create RIDER Line, a range that perfectly meets all your requirements: The certainty of receiving a quality accessory at a "biker price" but also of having, if you need it and if you take the time to contact us, informed advice from experts as well as a personalized, fast, relevant and competent follow-up that aims at making you an (even more) satisfied biker.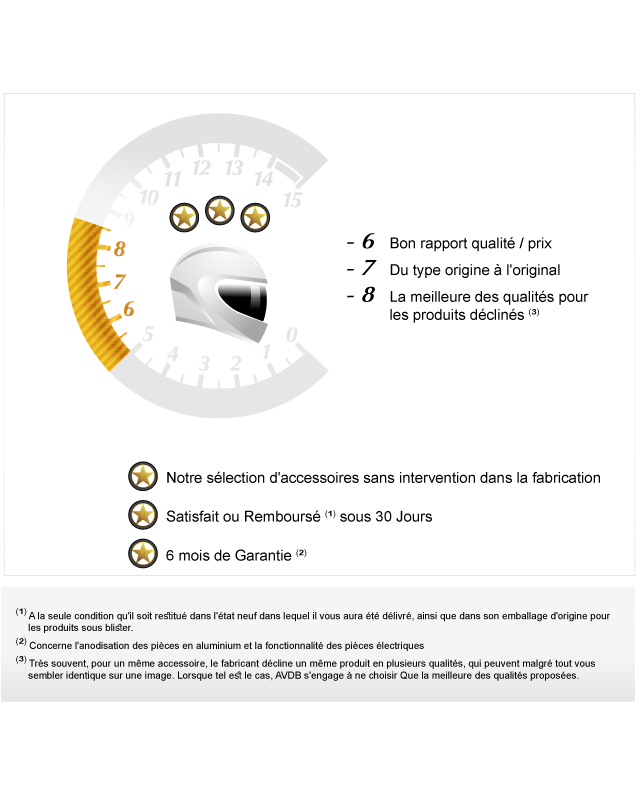 This range is intended above all for those who want to benefit from a quality service and follow-up, a quick availability and delivery, all without considering price as the only criteria for purchase or judgment, and altogether while also being an actor in our future development.
This range gathers various kinds of parts, more or less technical, from adaptable ones to OEM-based aftermarket parts, even including accessories for motorcycles over 20 years old that you cannot find anymore, even at the dealership.And since openness and transparency are part of our core values, we will play fair with you.Specifically in the case of OEM-like aftermarket accessories designed for the oldest motorcycle models, the product's finish may sometimes not meet the expectations of the most demanding bikers. And we will not be able to offer a higher quality level for these parts as it is not available in the manufacturers' catalogue.For the other products in this range, we do not compromise on quality, which goes from good to excellent. What prevents these accessories from belonging to the upper range is simply their price, which is not always the most competitive.
This explains easily because, on a daily basis:
- We strive to offer you "biker prices" on the other ranges, and to succeed in doing so, we sometimes have to drastically sacrifice our profits.
- We commit to offer you a high quality service, with real interlocutors as responsive as they are relevant, as well as fast and accurate shipments.
- We do our maximum to have, at all times, more than 90% of the products in our catalogue in stock in France in order to guarantee you an immediate availability.
- We must properly pay our team, but also the taxes, duties and social security contributions due by all French companies, including us.
- We regularly invest to offer you novelties and to develop other ranges that are more advantageous for you.

In order to support us in these missions and obligations, we have this ADDICT Line. We depend on this range and we accept it, it is a necessary evil in order for us to exist and to persist. This is why, on this range alone, we offer prices that are sometimes a little higher than some other accessory manufacturers, although they remain largely acceptable compared to those charged by dealerships and leaders in the motorcycle accessories' industry.
Just as the restaurateur needs his bottle of wine to make some profit and to function, you need footrests on your bike to ride, and AVDB needs this range to exist. If you do not accept this reasoning, you can simply drink water, ride without foot rests, and not order a product from this range, because there are of course no obligations to do so.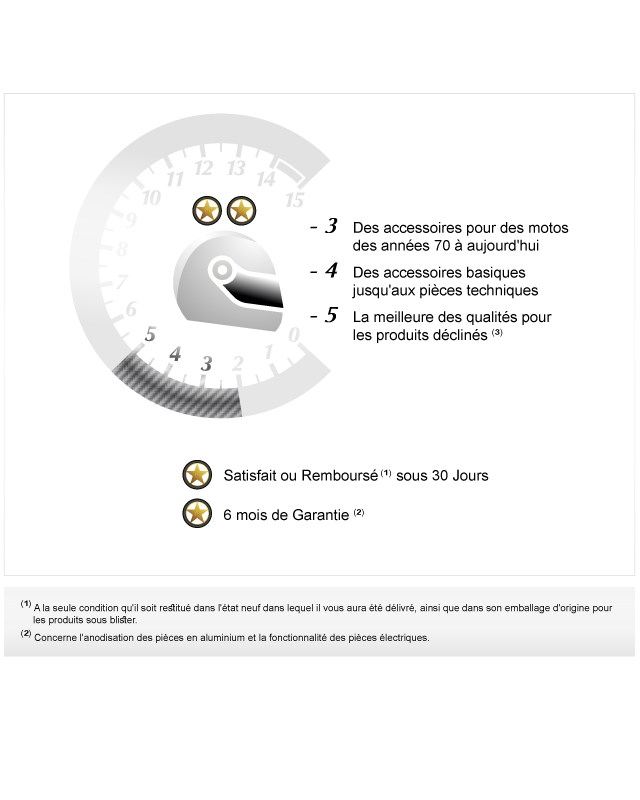 Only one guarantee, the one of having the best price. This range is intended for you if...

- When we try to discuss quality, you want to discuss the quality... of the price.
- When we guarantee a good quality finish, you prefer to make sure that the price is well finished.
- When we offer a guarantee on a product, you prefer having the guarantee... of having the lowest price.
- When we talk about compatibility, you first wonder if the price is compatible with your wallet.
- When we tell you that there are different quality / price ratios for the same product, for you there is only one : the price / price ratio.
- When we point out that a company must pay high taxes and duties to exist in France, you say: Okay, as long as it doesn't affect my buying price.
Ladies and gentlemen, big defenders of price over everything else, say no more. This product range is THE dream range of all bikers for whom the only buying criteria is price.
AVDB has understood you well and, after hearing different kinds of low-level remarks and comparison focusing only on price, we have been forced to meet the requirements of all bikers, including those who want nothing BUT a low price. However, know one thing: if, for a product belonging to this range you tell us that it lacks quality, finish, delivery speed, customer service... Know that we will proudly answer you : Yes, but you have... the price! The rest is just a bonus. And for all bikers whose selection criteria are not based only on price, we have, for you, the other ranges above that will probably be closer to your expectations.